Цитопротекторна терапія в сучасній гастроентерології: роль та місце ребаміпіду
Ключові слова:
цитопротекція, ерозивно‑виразкові ураження, гастродуоденальна зона, ентеропатія, виразковий коліт, канцерпревенція, H. pylori, профілактика, ребаміпід
Анотація
Оглядова стаття присвячена проблемам лікування та профілактики захворювань органів травлення із застосуванням цитопротектора ребаміпіду, який стимулює продукцію ендогенних простагландинів у слизовій оболонці шлунка і тонкої кишки, прискорюючи загоєння ерозивно‑виразкових уражень, виразкових уражень, спричинених Нelicobacter pylori, прийомом стероїдів і нестероїдних протизапальних засобів. Основними властивостями ребаміпіду є підвищення синтезу простагландинів і захисних глікопротеїнів (фукопротеїнів), пригнічення процесів перекисного окиснення ліпідів, запальних цитокінів. Призначення комбінації інгібітора протонної помпи і цитопротектора ребаміпіду на тлі хіміотерапії дає змогу підвищити резистентність слизового бар'єра, зменшити вираженість процесів вільнорадикального окиснення та метаболічної інтоксикації і може вважатись ефективним методом профілактики ерозивно‑виразкових уражень гастродуоденальної зони у хворих на гострі лейкемії в динаміці цитостатичного лікування.
Прямий зв'язок ризику розвитку раку шлунка з тяжкістю і ступенем атрофічного гастриту, кишкової метаплазії і дисплазії, відсутність зворотного розвитку кишкової метаплазії і дисплазії на тлі ерадикації H. pylori передбачає використання в якості засобів первинної і вторинної профілактики препаратів гастропротективної дії. Ребаміпід — високоефективний і безпечний засіб первинної та вторинної профілактики раку шлунка завдяки антигелікобактерному ефекту, протизапальній дії, здатності відновлювати клітинну структуру епітелію шлунка. Перевагою ребаміпіду порівняно з іншими цитопротекторами є доведена його додаткова дія на слизову оболонку тонкої та товстої кишки.
Посилання
Andreev DN, Maev IV, Dicheva TD, Samsonov AA, Parcvania-Vinogradova EV. Jeffektivnost' i bezopasnost' primenenija rebamipida v trojnoj jeradikacionnoj terapii infekcii Helicobacter pylori: prospektivnoe randomizirovannoe sravnitel'noe issledovanie. Terapevticheskij arhiv. 2018;90(8):27-32. doi: 10.26442/terarkh201890827-32 [in Russian].
Kazjulin AN, Goncharenko AJu, Maev IV. Ispol'zovanie rebamipida v kachestve gastroprotektivnogo i protivovospalitel'nogo preparata pri NPVP-gastropatijah. Lechebnoe delo. 2016;3:50-58 [in Russian].
Lapina TL. Vozmozhnosti lekarstvennogo vozdejstvija na citoprotektivnye svojstva gastroduodenal'noj slizistoj obolochki. Ros zhurn gastrojenterol, gepatologii, koloproktologii. 2006. –T. 16(5):75-81 [in Russian].
Maev IV, Kazjulin AN. Novye vozmozhnosti profilaktiki raka zheludka. Terapevticheskij arhiv. 2017;89(4):101-109. doi: 10.17116/terarkh2017894101-109 [in Russian].
Moroz EV, Karataev AE. Rebamipid: jeffektivnaja medikamentoznaja profilaktika NPVP-jenteropatii vozmozhna. Sovremennaja revmatologija. 2016;№4:97-105 [in Russian].
Simanenkov VI, Lutaenko EA, Nikogosjan AA. Kliniko-farmakologicheskie osobennosti primenenija rebamipida pri zabolevanijah zheludochno-kishechnogo trakta. Medicinskij sovet. 2016;19:88-95 DOI:10.21518/2079-70X-2016-19-88-95 [in Russian].
Simanenov VI, Tihonov SV. Rebamipid — novye vozmozhnosti gastrojenteroprotekcii. Terapevticheskj arhiv. 2015;87(12):134-137. doi: 10.17116/terarkh20158712134-137 [in Russian]
Skrypnyk IM, Hopko OF. Stan rezystentnosti slyzovoho bar'iera hastroduodenalnoi zony u khvorykh na vyrazkovu khvorobu ta shliakhy yii korektsii. Hastroenterolohiia: Mizhvid zb. Dnipropetrovsk, 2008. Vyp. 41:97-103 [in Ukrainian].
Skrypnyk IM, Hopko OF, Vakhnenko AV. Mozhlyvosti tsytoprotektornoi terapii v pidvyshchenni efektyvnosti likuvannia khvorykh na peptychnu vyrazku. Hastroenterolohiia: Mizhvid zb. Dnipropetrovsk, 2010. Vyp. 44:592-597 [in Ukrainian].
Skrypnyk IM, Maslova HS. Tsytoprotektorna terapiia yak efektyvnyi zasib profilaktyky erozyvno-vyrazkovykh urazhen hastroduodenalnoi zony u khvorykh na hostri leikemii. Ukr terapevt zhurnal. 2011;1:33-38 [in Ukrainian].
Skrypnyk IM, Maslova HS, Vakhnenko AV. Osoblyvosti patohenetychnoho likuvannia vyrazkovoi khvoroby na foni suputnoho tsukrovoho diabetu 2-ho typu. Krymskyi terapevt zhurnal. 2010;2(2):274-278 [in Ukrainian].
Tkach CM, Balabanceva AP. Sovremennye podhody k lecheniju NPVP-jenteropatij [in Russian]. Suchasna gastroenterologija [Modern Gastroenterology]. 2014;6 (80):37-42
Fediv OI, Bahrii VM, Trush VV, Hresko LM. Osoblyvosti hoiennia erozyvno-vyrazkovykh urazhen slyzovoi obolonky shlunka ta dvanadtsiatypaloi kyshky pid vplyvom rebamipidu. Suchasna hastroenterolohiia. 2008;3:53-56 [in Ukrainian].
Jakovenko JeP, Agafonova NA, Ivanov AN, Jakovenko AV. Citoprotektor rebamipid v terapii vospalitel'nyh i jerozivno-jazvennyh porazhenij zheludochno-kishechnogo trakta. Terapevticheskij arhiv. 2016;88(12):88-92. doi: 10.17116/terarkh20168888-92 [in Russian].
Abe N, Funato H, Hirata A et al. Evaluation of gastric mucosal injury model animals of rebamipide formulation-study of therapeutic equivalence. Yakugaku Zasshi. 2016;136(4):677-684.
Allen A, Flemström G. Gastroduodenal mucus bicarbonate barrier: protection against acid and pepsin. Am J Physiol Cell Physiol. 2005;288:1-19.
Bamba H, Ota S, Kato A et al. Effect of Rebamipide on prostaglandin receptor-mediated increase of inflammatory, cytokine production by macrophages. Aliment Pharmacol Ther. 2003;18, suppl. 3:113-118.
Du Y, Li Z, Zhan X. Anti-inflammatory effects of rebamipide according to Helicobacter pylori status in patients with chronic erosive gastritis: a randomized sucralfate-controlled multicenter trial in China-STARS study. Dig Dis Sci. 2008;11:2886-2895. doi: 10.1007/sl0620-007-0180-z.
Endo H, Sakai E, Higurashi T et al. Differences in the severity of small bowel mucosal injury based on the type of aspirin as evaluated by capsule endoscopy. Dig Liver Dis. 2012;44 (10):833-838. doi: 10.1016/j.dld.2012.05.016.
Genta RM. Review article: the role of rebamipide in the management of inflammatory disease of the gastrointestinal tract. Aliment Pharmacol Therapy. 2003;18, suppl.1:8-13.
Goel GA, Deshpande A, Lopez R. Increased rate of spontaneous bacterial peritonitis among cirrhotic patients receiving pharmacologic acid suppression. Clin Gastroenterol Hepatol. 2012;10(4):422-427. doi: 10.1016/j.cgh.2011.11.019.
Han X, Jiang К, Wang В et al. Effect of rebamipide on the premalignant progression of chronic gastritis: a randomized controlled study. Clin Drug Investig 2015;35 (10):665-673.
Ilver D, Barone S, Mercati D et al. Helicobacter pylori toxin VacA is transferred to host cell via a novel contact-dependent mechanism. Cell Microbiol. 2004;6:167-174.
Kamada T, Sato M, Tokutomi T et al. Rebamipide improves chronic inflammation in the lesser curvature of the corpus after Helicobacter pylori eradication: A multicenter study. Biomed Res Int. 2015;865146. doi: 10.1155/2015/865146.
Kobayashi T, Zinchuk VS, Garcia del Saz E et al. Suppressive effect of rebamipide an antiulcer agent, against activation of human neutrophils exposed to formyl-methionyl-leucyl-phenylalanine. Histol Histopatol. 2000;15(4):1067-1076.
Kurokawa S, Katsuki S, Fujita T et al. A randomized, double-blinded, placebo-controlled, multicenter trial, healing effect of rebamipide in patients with low-dose aspirin and/or non-steroidal anti-inflammatory drug induced small bowel injury. J Gastroenterol. 2013;49(2):239-244. doi: 10.1007/s00535-013-0805-2
Lee KH, Kim JY, Kim WK et al. Protective effect of rebamipide against Helicobacter pylori-CagA-induced effects on gastric epithelial cells. Dig Dis Sci. 2011;56(2):441-448.
Masamure A, Yoshida M, Sakai Y et al. Rebamipide inhibits ceramide-induced interleukin-8 production in Kato III human gastric cancer cells. J Pharmacol Exp Ther. 2001;298(2):485-494.
Matsumoto S, Tsuji K, Shirahama S. Rebamipide enema therapy for left-sided ischemic colitis patients accompanied by ulcers: Open label study. World J Gastroenterol. 2008;14 (25):4059-4064.
Matysiak-Budnik T, Heyman M, Megraud F. Rebamipide and the digestive epithelial barrier. Aliment Pharmacol Ther. 2003;N 18:55-62.
Miyata M, Satoh M, Kasugai K et al. Rebamipide enema versus 5-aminosalicylic acid enema for distal ulcerative colitis: a randomized controlled trial. Gut. 2006;55 (suppl.. V). A128.
Mizukami K, Murakami K. Aspirin-induced small bowel injuries and the preventive effect of rebamipide. World J Gastroenterol. 2011;46:5117-5122. doi: 10.3748/wjg.vl7.i46.5117.
Naito Y, Yoshikawa T. Rebamipide: a gastrointestinal protective drug with pleotropic activities. Expert Rev Gastroenterol Hepatol. 2010;4(3):261-270. doi: 10.1586/egh.10.25.
Ogata H, Kamada N, Inoue N et al. A randomized, multicentre pilot study comparing mesalazine enemas and rebamipide enemas for active ulcerative colitis. Gut. 2006;55 (suppl. V). A129.
Park SH, Cho CS, Lee OY. Comparison of prevention of NSAID-induced gastrointestinal complications by rebamipide and misoprostol: a randomized, multicenter, controlled trial-STORM STUDY. J Clin Biochem Nutr. 2007;40(2):148-155. doi: 10.3164/jcbn.40.148.
Shin WG, Kim SJ, Choi MH. Can rebamipide and proton pump inhibitor combination therapy promote the healing of endoscopic submucosal dissection-induced ulcers? A randomized prospective, multicenter study. Gastrointest Endosc. 2012;75(4):739-747. doi: 10.1016/ j.die.2011.11.004.
Skrypnyk I. Diagnostic and treatment algorithms of ulcerative colitis Ukraine. Digestive Diseases. 2009;27:550-554. doi: 10.1159/000233296
Skrypnyk I, Gopko A, Vakhnenko A. Role of rebamipide in the therapy of peptic ulcer associated with H. pylori. Helicobacter. 2009;14(4):403.
Skrypnyk I, Maslova A. Pantoprazole and rebamipide provide effective healing of erosive and ulcerative lesions of gastroduodenal zone, associated with Helicobacter pylori, in patients with leukemia. Gut. 2009;58, suppl. II. A256.
Terano A, Arakawa T. Rebamipide, a gastro-protective and antiinflammatory drug, promotes gastric ulcer healing following eradication therapy for Helicobacter pylori in a Japanese population: a randomized, double-blind, placebo-controlled trial. J Gastroenterol. 2007;42(8):690-693. doi: 10.007/s00535-007-2076-2.
Tozawa K, Oshima T, Okugawa TA. Randomized, double-blind, placebo-controlled study of rebamipid for gastric mucosal injury taking aspirin with and without clopidogrel. Dig Dis Sci. 2014;59:1885-1890.
Watanabe T, Takeuchi T, Handa O et al. A multicenter, randomized, double-blind, placebo-controlled trial of high-dose rebamipide treatment for low-dose aspirin-induced moderate-to-severe small intestinal damage. PLoS ONE. 2015;10(4). e0122330. doi: 10.1371/journal.pone.0122330
Yan B, Lu Zh., Ge Zh. et al. A multicenter, randomized, controlled trial of rebamipide plus lansoprazole for the treatment of postendoscopic submucosal dissection ulcers. Clinical and Translation Gastroenterology. 2019;10:1-8. doi: 10.14309/ctg.0000000000000008.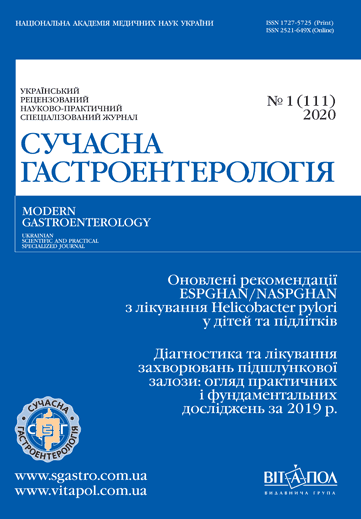 ##submission.downloads##